2018 – Barnier Safety
Barnier launches a range offering tailor-made personal protection solutions for the hands, adapted to each building activity.

User safety is of paramount importance these days, this product range has been carefully designed to meet the new challenges of risk prevention in the workplace.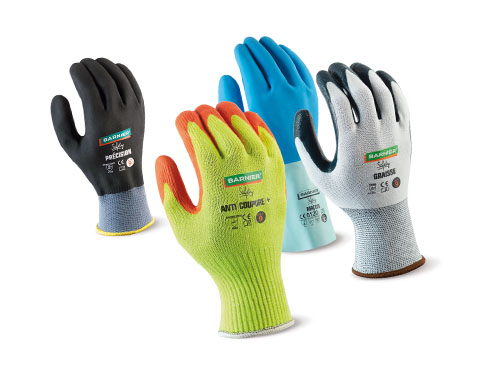 ---
2018
TAILOR-MADE PROTECTION FOR PROFESSIONALS
Barnier® also offers tailor-made protection for building professionals.

Because we are familiar with each building trade (and their evolutions) always involving, sometimes dangerous, the safety of professionals matters to us.

Thanks to our manufacturers and suppliers, real partners of confidence with us, more than ever committed to seeing the quality requirement of our products!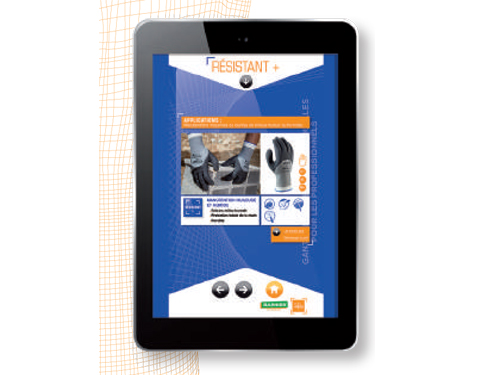 ---
2018
BARNIER FACADE
In 2018, Barnier® launched a new range for façade specialists.

A good facade maker uses Barnier® technology

Barnier Façade is composed of 4 essential products: 6095 LE FACADIER, 6098 Green, 6097 Blue, 2994 Black.

To go further in this approach Barnier provides facadiers with additional products such as strips of mouldings and reserves, selvedge strips, the facade cloth also gloves.

For you facadiers!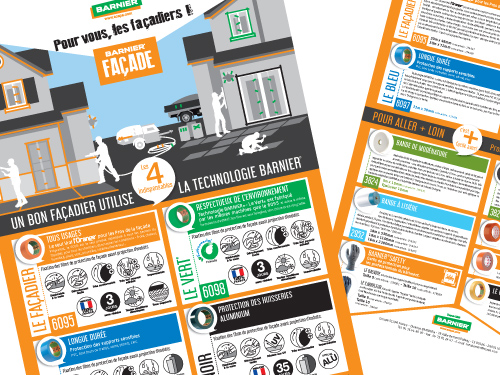 2016
100 YEARS AND A NEW FACTORY
What better gift than a new production tool to celebrate this birthday? Is it a combination of circumstances or a real sign of recognition and willingness to continue activities? There is no chance in modern affairs.

Luck belongs to the daring. When Scapa® chose to invest in France, chose to make Barnier® permanent, it is because the Group recognises the values of the men and women who make up this company, the values of its brand, and the dedication of its distributors and end users, the quality of its products, services and innovations.

Thank you again and we wish you good business!

100 years, 100% French!
---
2008
THE GREEN TAPE
The first adhesive tape respectful of environmental constraints!

Barnier® promotes the logic of respect the environment by offering an innovative product to construction craftsman. All materials and the production line dedicated to Vert® are standardised, from recycling and contain neither heavy metals nor DEHP. Its performance and price are comparable to its cousin the Orange®.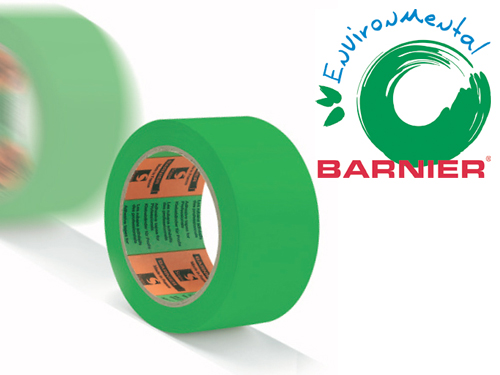 ---
1997
THE DEVELOPMENT OF THE GROUP
Scapa® is an ambitious group that makes multiple acquisitions around the world to become a key player in this market.

One profession: the adhesive tape.

Mastery of all sectors and techniques, recognition of skills and know-how, Scapa® is a major player in the sector, in various fields such as automotive manufacturing, manufacturing of electrical or optical transmission cables, electronics and for healthcare. So many markets with high demands and precise processes, to which Scapa responds with recognised quality certifications.

The Barnier® brand benefits from this highly technical base and the continuous improvement of these processes, which enhances the quality of its products. The Scapa Group is an improvement engine for Barnier®.
---
1993
THE SCAPA GROUP'S COMMITMENT
Scapa® acquires and invests heavily in the modernisation of the production tool.

The Valence site becomes the worldwide expert in the group of adhesive tapes for the construction market!

Barnier® becomes the specialist of Pros!

Innovation, commitment to respect for people and the environment are at the heart of our ambitions. New products are offered: Thermofilm®, tape glue and Bandetanche®.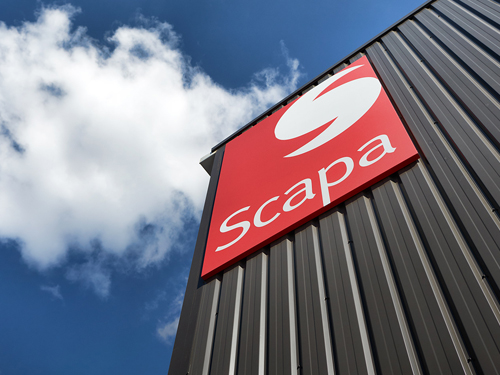 ---
1970
BIRTH OF 6095, THE ORANGE® THE TRUE!
A revolutionary product is launched!

Initially dedicated to formwork joining, its strengths make it one of the most appreciated products of the construction craftsmen: an easy unwinding and adhesiveness in all weather, on all media, whatever the temperature of application!

Many actors try to copy it without success. To cope with the demand, a second factory is built.
---
1945
A FRONT-GARDISTE PLANT!
Allies bomb a stocks of enemy munitions stationed in Valence. The damage to the plant is considerable. We must rebuild. The new buildings, independent of each other, prevent any risk of spreading fires, thus preserving the environment: a truly avant-garde construction!

The transformation of plastics is improving and very quickly the company calendered PVC films and adhesive coating. This is how the range of electrical insulation tapes "Chatterton" of a new generation is born!
---
1930
AMAZING INNOVATIONS!
A fire, probably of criminal origin, destroys all the installations. Tenacious and inventive, Barnier's research is oriented towards the transformation of plastics:
○ Extruded in round dies around a coated woven film, the formed cord is the ancestor of our garden hoses!
○ Extruded in flat die and in different colours, these plastic slats grouped in cross-sections gave birth to filtering curtains ... and decorate numbers for doors!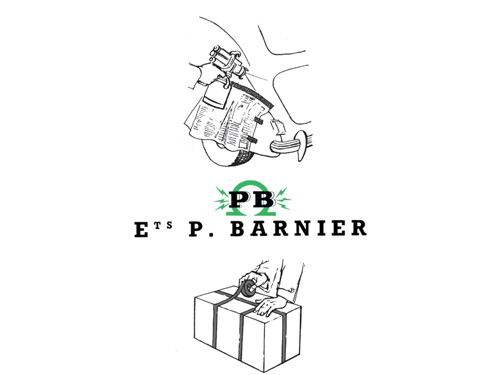 ---
1916
FOUNDING FATHERS
It all starts with the entrepreneurial spirit of Dauphinois engineers. A family composed of Pierre-Eugène Barnier, his two sons Pierre-Benjamin and André Barnier, and Jean Vallernaud.

They invented the double-sided "Chatterton" fabric whose insulating, sustaining and long-lasting properties quickly made it the favourite of electrical installers. Soon the range for electrical insulation extends with the coating of varnished canvases.